City Palace Museum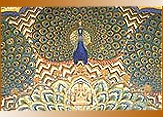 The main part of the palace is now preserved as a museum displaying a large and diverse array of artefacts. Down steps from the entrance is the armoury museum exhibiting a huge collection of protective gear, weapons including the lethal two-pronged sword. The City Palace museum is then entered through the Ganesh Deori meaning the door of Lord Ganesh.
Shilpgram Museum
Literally meaning a "Craftsmen's Village" is a living ethnographic museum depicting the enormous diversities in craft, art & culture between various Indian states, but the exquisite terracotta work mainly in dark red and dark brown sand material along with the wooden carvings are the forte of this ethnic village . Shilpgram comprises 26 huts set in 70 acres of natural surroundings at the foot of the Aravali Hills.A colourful craft festival during winter seasons to the whole set up induces viatanity and zeal.
Ahar Museum
Located about 2 kms east of Udaipur is an impressive cluster of cenotaphs of the Maharanas of Mewar. There are about nineteen cenotaphs of Maharanas cremated there. The most striking cenotaph is that Maharana Amar Singh, who reigned from 1597 to 1620. Nearby is also Ahar Museum, where on display is limited but very rare earthen pottery.
Vintage Collection of Classic Car Museum
The collection within the grounds of the Garden Hotel comprises a variety of classic and interestingly rare transportation vehicles; some stately and vintage like Cadalec, Chevalate, Morais etc., while the others are sleek and fast .
In Udaipur
"Place to Visit In Udaipur"