City Palace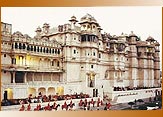 City Palace towers over the Pichola Lake. Maharana Uday Singh initiated in the construction of the palace but succeeding Maharanas added several palaces and structures to the complex retained a surprising uniformity to the design. The entry to the Palace is from the Hati Pol, the Elephant gate. The Bari Pol or the Big gate brings you to the Tripolia, the Triple gate. It was once a custom that the Maharana would weigh under this gate in gold and silver, which was distributed to the populace. It is also now the main ticket office.
Fateh Prakash Palace
It's like being cocooned in authentic royal luxury at the Fateh Prakash Palace, the grand heritage palace of the HRH group. The warmth of royal hospitality greets you as you walk along the corridors lined with large paintings of the Mewar school that flourished in the seventeenth through nineteenth century.
The Lake Palace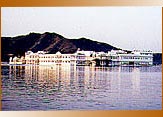 The Lake Palace is located on the Jag Niwas Island and covers the whole of 1.5 hectare of the island in the middle of the Pichola Lake. Built by Maharana Jagat Singh in 1743 it was meant as a royal summer palace and now converted in to a five star palace hotel. It is a magical palace and its image in the middle of the lake is like a leaf straight out of a fairy tale book with an excellent taste of intricate craftsmanship and the ethnic themes using the textiles and handicrafts all over highlight the beauty that is simply beyond compare the lake around makes a pleasant murmur with its rippling waves and lapping that adds to the mesmerising moments.
In Udaipur
"Place to Visit In Udaipur"