Bagore-Ki Haveli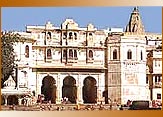 This is a very congenial old building built right on the waterfront of Lake Pichola at Gangori Ghat. Amir Chand Badwa, the Prime Minister of Mewar built it in the eighteenth century. The palace has over hundred rooms and some very interesting display of costumes and modern art. The glass and mirror in the interiors of the Haveli delicate work and well preserved too.
Maharana Pratap Memorial
An impressive bronze statue of Maharana Pratap and his favorite and loyal horse, who was fiercely protective about his master and stood by him till his last breath, stands at the top of Moti Magri (Pearl Mount) overlooking Fateh Sagar. Local people climb the hill to pay homage to Rana Pratap and his faithful charger 'Chetak', who was killed in the battle of Haldighati. There are the ruins of one of the first Udaipur's forts and there is also a charming Japanese rock garden not faraway .
In Udaipur
"Place to Visit In Udaipur"