Kumbhalgarh Fort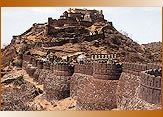 Located 64 kms north of Udaipur in the wilderness, Kumbhalgarh is the second most important citadel after Chittorgarh in the Mewar region. Cradled in the Aravali Ranges the fort was built in the 15th century by Rana Kumbha. Because of its inaccessibility and hostile topography the fort had remained un-conquered. It also served the rulers of Mewar as a refuge in times of strife.
Chittourgarh Fort
Chittorgarh is the epitome of Rajput pride, romance and spirit. It reverberates with history of heroism and sacrifice, which is evident as it echoes with the tales sung by the Bards of Rajasthan. The main reason for visiting Chittorgarh is its massive hilltop fort, which is a depiction of Rajput culture and values. The fort stands on a 240-hectares site on an 180m high hill that rises rapidly from the plains below.
Haldighati
The extensive terra firma, towards the south west of Nathdwara, this historical site witnessed the great legendry battle fought between Maharana Pratap and the Mughal Emperor -Akbar in 1576 AD.
In Udaipur
"Place to Visit In Udaipur"