Lake Pichola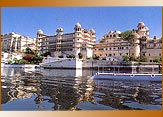 Pichola Lake derives its name from Pichola Village was submerged and Maharana Udai Singh enlarged the lake after he founded the city. He built a masonry dam known as Badipol and lake is now 4 km long and 3 km wide. This picturesque lake encloses the Jag Niwas Island and the Jag Mandir. And, the City Palace extends along its eastern banks.
Fateh Sagar Lake
This delightful lake, bordered by hills and woodland was constructed by Maharana jai Singh to the north of Lake Pichola. It is an artificial lake dug up in 1678, reconstructed by Maharana Fateh Singh A canal links the two, via Swaroop Sagar and Rang Sagar Lakes. The beautiful Nehru Island as well as an islet bearing a solar observatory rises from the lake.
Jaisamand Lake (51kms)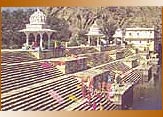 Maharana Jai Sigh had built this picturesque artificial lake. It the second largest lake in Asia. The lake has elegant step leading to the water and marble Chhatri (cenotaphs) on its bank and a small Shiv temple marks the grace of the lake. On either side are the palaces built for the king favourite queens. The local tribe for Bhils still inhabit the island.
Rajsamand Lake
On the way to Kumbhalgarh lies their royal lake with a magnificent dam created in the 17th century offers a spectacular views of the sunset adorned by beautiful Torans [arches] and Chhatris And number of attractive pavilions. Stunning sculpture and Sanskrit verses are vividly inscribed in store a small counterpart of Nathdwara.
In Udaipur
"Place to Visit In Udaipur"